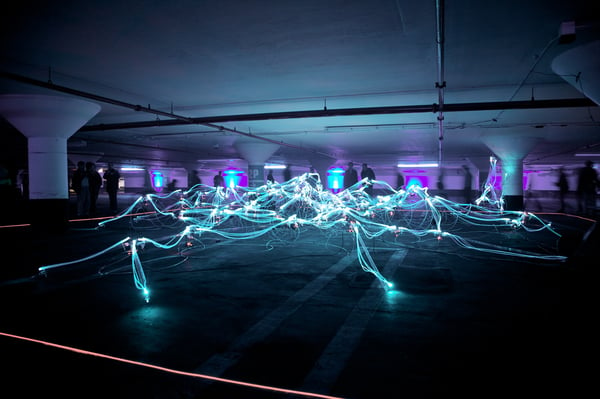 For marketers, leveraging their data management platform (DMP) is the key to mapping, measuring, and ensuring each marketing dollar is well-placed. According to eMarketer, "DMPs help marketers find the inventory they seek by creating custom audience segments." And once you know your target audience, you know where to spend. Great if you have a DMP. What if you don't? I sat down with our CEO Michael Caccavale to discuss.
Why use a DMP?
We often talk about the importance of omnichannel marketing. And that's more than just placing ads in different channels. You have to be making data-informed decisions, right? A data management platform is basically just a tool that allows you to see the whole picture – if deployed correctly.
What would you say to marketers who are shopping for one?
You have to be wary of platforms that only support a fraction of the channels you're using. Because that doesn't support your ability to holistically assess your marketing efforts and worse off, it will start to create more custom integration points for you and your IT teams.
And understand you're going to use your DMP for more than just finding inventory and placing ads. You need to account for attribution and other elements as well. If you're not looking across all customer facing channels for both transactional and marketing actions, you're not going to have an accurate view of what's going on.
So ask those questions of your DMP provider. Make sure its capabilities match up with your existing (and aspirational) marketing efforts.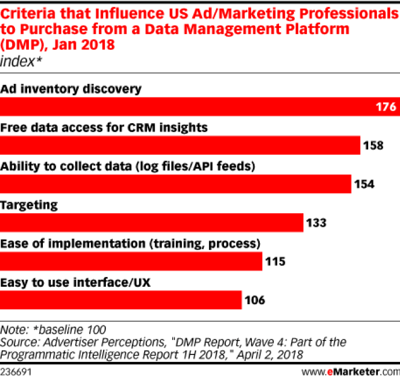 Check out this chart from eMarketer. Would you add anything that's not represented here in terms of criteria to consider?
This is missing the fundamental incorporation of other channels. And cross-channel attribution. You need a DMP that can handle it all.
Ad inventory discovery is ranked as #1. How does it work and why is it so valuable?
DMPs hook up to networks so you can find inventory and place ads, keep track of ad placement, etc. but again, this is only a fraction of the bigger picture so arguably, it's not that valuable. It belongs on the list, but I'm surprised it's number one.
What are the top CRM insights we can expect to leverage from a DMP?
You should be able to look and understand the customer journeys and profiles of people responding to marketing placements both digital and non-digital. So profiles can be built up to best understand likely responders and non-responders. This is significant in informing your list segmentation, your personas, and measuring engagement.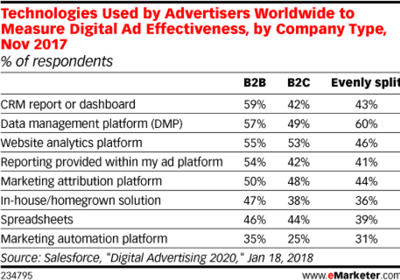 What are we looking at here? Is it crazy that spreadsheets are more often used than a marketing automation platform?
No, that's very typical. It really just shows the world they're living in today. And frankly, spreadsheets are often the launching pad for marketers to begin using a CRM or dashboard. It helps you map out which data is most important to you – so while spreadsheets can be tedious to use over time, marketers are comfortable with them and allow them to throw in a bunch of data points easily…
Which technologies should advertisers be relying on to measure digital ad effectiveness?
Really, any kind of marketing platform – DMP or otherwise – should provide this and provide it in a way that considers all the media that might be impacting a prospect. It's about finding a platform that meets all of those needs from placement to measurement with a solid foundation of data analytics and statistics.
If DMPs only tell half the story, what's the solution to get the full picture?
While DMPs can help you get a platform quickly for digital most often, you need to consider other things. Look at that last chart – you should have one platform to manage it all. We often see spreadsheets more in the digital world – marketers need one platform that can provide all of these capabilities.