Chief Executive Officer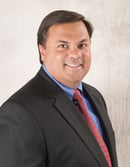 As the leader of Pluris, CEO Michael Caccavale is the innovator and forward-thinker behind the company's marketing enablement, analytic and optimization solutions.
With more than twenty five years of marketing expertise in the retail, financial services, telecom, media and healthcare industries, Michael has led Pluris in creating solutions rooted in best practices to meet future goals, tapping in to marketers' needs to engage consumers in more creative and effective ways.
Always one step ahead of the industry curve, Michael has developed innovative systems and solutions for some of the leading brands in marketing and entertainment – American Express, AT&T, Comcast, Fingerhut, Merck, GTE, Johnson & Johnson, Lands' End and Time Warner, to name a few.
Prior to founding Pluris, Michael held brand management positions for Proctor & Gamble, founded Aperio, a leading marketing services firm and co-founded Exchange Applications.
Michael holds an MBA from Babson College and a Bachelor of Science, Engineering degree from Rensselaer Polytechnic Institute.