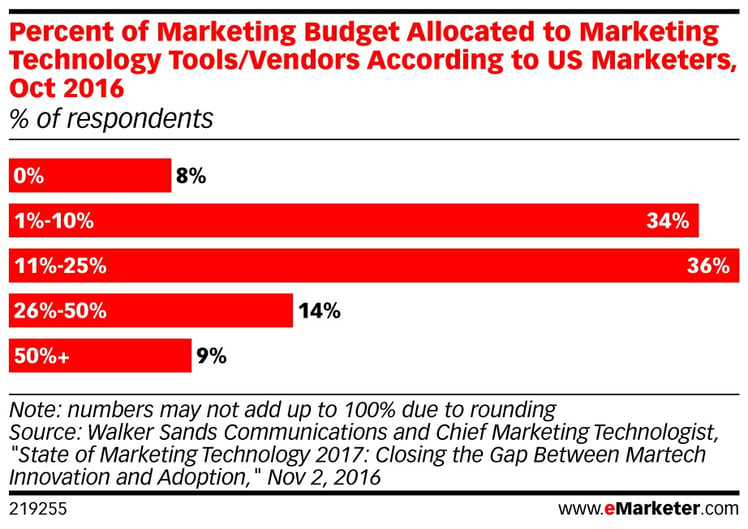 The role of the CMO is changing rapidly, but not always in alignment with consumer behavior shifts.

Consumer behavior is dynamic and this requires a working knowledge of what's changing so you can engage your customers with targeted, timely messages. Most marketers are employing technology to support this effort, but it's important to link your platforms to your strategy.
What's changing with budgets? According to eMarketer, marketing technology budgets are still on the rise, with 70% of marketers planning to increase their YOY investment in 2017.
Your CEO knows this, and will likely ask you questions to make sure those investments are in alignment with the goals of the business. CMOs are more than executors of a plan, they're architects of strategy. So your CEO is going to expect updates beyond the status of your task list and metrics. Are you prepared to answer them?
Is your strategy to outsource your marketing technology or build in-house? What are the implications of insourcing vs. outsourcing? This comes back to knowing your talent – and encouraging them to enlist help when needs arise outside of your core competencies.
To that end, how do you avoid spending your marketing tech dollars across too many platforms? Don't waste time, money, and talent chasing tiny objects. Keeping things simple makes it actionable for your team and gives you a better cross-media view. Think quality over quantity.
How are you managing multiple channels? Social media and brand building are shifting to campaign management, which requires a data-centric approach. You can't look across channels unless you equate the channels to each other and have a platform/infrastructure to automatically tie all of that information together.
How do you ensure that your marketing tech investments align with your long-term marketing strategy? This is as much about justifying the spending increase as it is about keeping your eye on the long-term strategy and making sure to check all of your decisions against that.
The allure of marketing technology often sees marketers running toward it without a plan. That said, CEOs will challenge their teams to think beyond the shiny object, and tie their decisions back to organizational strategy. As CEOs guide this thinking (and as their teams are proactive in keeping the organizational goals at the center of activity) the C-suite as a whole will be better suited to execute on a comprehensive plan.