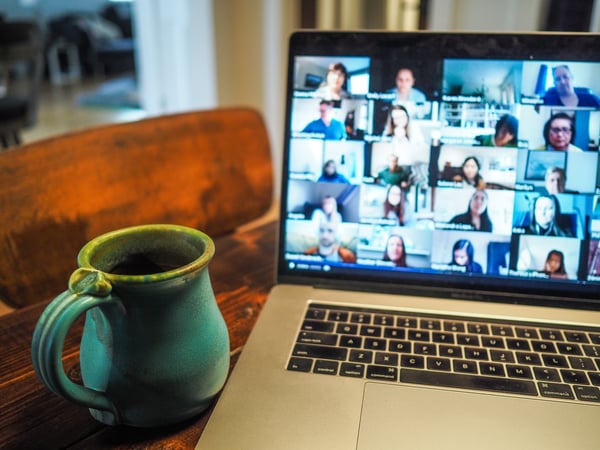 Like many people, I have spent a lot more time in 2020 with Zoom meetings and Netflix characters than with real people. And as social distancing continues to be the norm, the resulting consumer habits are leaving some marketers to rethink their tactics. I recently sat down with our CEO to talk about what's changing – and what isn't – as more consumers are staying home.
What is the biggest misconception about consumer behavior in the time of COVID-19?
That people have stopped buying stuff. Certainly, habits have changed a bit and some households had to tighten up their spending but ultimately, a lot of this created a shift in what people were buying. Using stimulus checks to outfit a home office, for example, or spending less on work clothes and more on workout clothes. People are still buying (sometimes even while they're binging their favorite shows, eh-hem) which means brands can't be asleep at the wheel.
If this eMarketer data suggests that time spent with social media will be the standout this year, what should marketers be thinking about? Building brand? Advertising?
Social is very visibly being leveraged for even more in this "new normal." But while brands need to consider the larger impact on their goals, they also need to understand that social is just one piece of a larger puzzle.
The reality is no matter what the brand's goal is – building loyalty or driving sales – they have to be thinking about digital. Not just social, but digital. Their customers might be staying home now, rendering things like billboards a little less useful, but they're still as reachable as ever through digital platforms.
What about direct mail?
Direct mail is actually working better now with more people working from home for some companies. The delight of receiving mail is very real so it's a great time to be in peoples' mailboxes – especially if you have a product or service that doesn't require leaving home to access. Telecommunication firms, for example, find DM works really well because people can self-install in this COVID-world.
How are cable companies responding to consumers' increasing draw to subscription video?

The business model of linear cable is struggling as customers want to have an individual choice of what to buy and when versus the "package only" model that cable is often clinging to. It's a matter of stepping up to the "on demand" model. All firms, including the pipe providers like cable are forced to offer OTT / "pay as you go" options to customers and this year's travel restrictions and work-at-home impacts are driving even faster adoption of these "spin your own package" solutions.
Are people dialing back their cable and subscriptions as a household cost savings?
No. In fact, our clients are seeing more connectivity. People are connecting more because they're home more and in some cases firms are covering some if not all of the cost of internet services for their employees. Some people are disconnecting in metropolitan areas because they are fleeing the cities, but ultimately, they are not leaving as customers. Connectivity at home is more important than ever due to COVID.
We've talked before about media consumption and multitasking. Are there opportunities for marketers to be visible in all places and if so, how do they choose where?
Marketers are increasingly learning, as evidenced in the report, of the spread of digital media consumption – often with consumers multitasking in two different media outlets (e.g. social and streaming movie) at the same time. Understanding how these different media drive consumption and advertising revenue is increasingly important so marketers can understand how to best leverage their media dollars on a tactical and strategic level.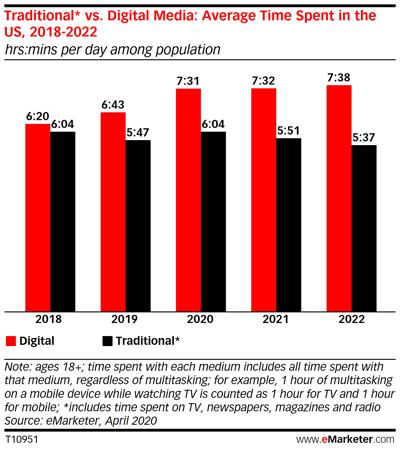 To what degree should marketers stick with their original plan for 2020?
While some adjustments have been necessary, some semblance of staying the course will benefit most brands. It gets expensive – and difficult to measure return – if you're constantly running to the other side of the ship. If you make big changes because people are at home and then a vaccine comes out, will your new plan still be relevant? If you're measuring as you go, you should be able to see what's working and what isn't and adjust accordingly.
I would be tempering the inclination to act drastically because it's very likely that your original plan for 2020 is still a good one and you just need to slightly adjust sails for now. It's good to plan for the worst but be ready to turn back to the original plan if and when the vaccine hits and people start feeling more comfortable getting back to "normal."