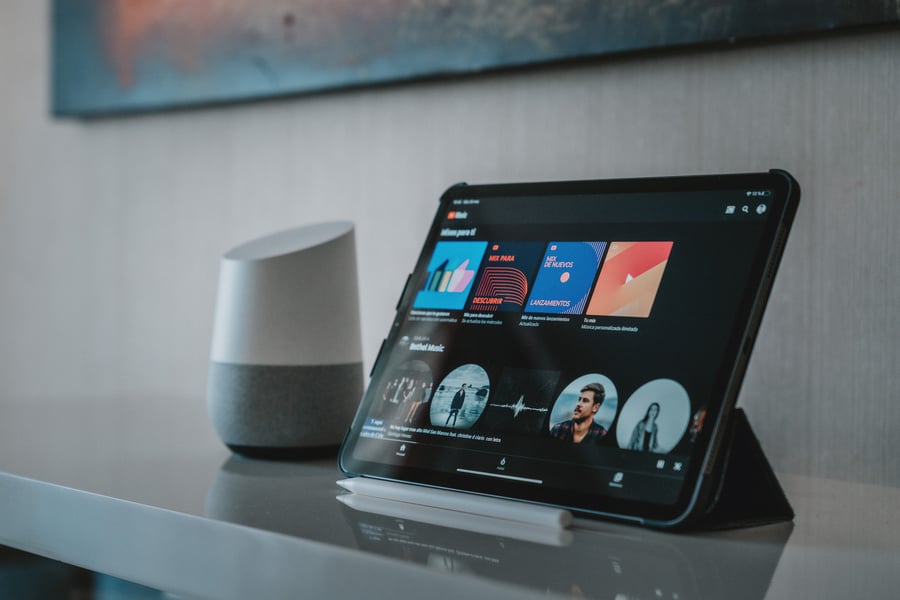 Our CEO Michael Caccavale and I have been talking a lot about a recent eMarketer report on smart homes, entitled "The End of Interruptive Marketing as We Know It." In a three-part blog series, we've discussed the emergence of smart homes and what it all means for marketers. And while marketers' roles are clearly evolving in this space, the question remains: which industries stand to gain the most from the growth of smart homes?
What are the top 3 industries that stand to gain here?
Home security is perhaps the most obvious one – having been on the frontlines of smart home adoption for years. Energy is there as well. And retail.
Tell me more about home security.
The home security piece is low-hanging fruit, in that it's been around the longest and keeping our homes safe isn't a fad. Smart home technology has given us increased opportunities to keep an eye on our homes, to make sure doors are locked, etc. and as people are more on-the-go, this convenience is important.
Is energy more-or-less an extension of that?
In monitoring, yes. But there's also the opportunity to adjust use and recognize savings. The fact that we can remotely control our smart thermostats, sprinklers, etc. and see real data on our use and budget… That's really appealing to homeowners and as it's integrated better with suppliers/service firms, it's even more appealing.
Where does retail fit in?
Retail is generally more transactional than informational – especially since brands have a difficult path to entry on things like Alexa, for example. You're not hearing straight-up retail ads there so how retail integrates into our collective smart home culture is more in ways like how stores are set up. Take cashierless stores, for example. The idea that you can go in, locate what you need with an app, and make a purchase all without interacting with a human is quite similar to the smart home experience you have at home. It's a step above shopping online in that you leave with your purchase in-hand, but has all the conveniences of a digital shopping experience. You're still missing the value of the human factor, though. And outside of "needs-shopping" like grocery stores, a lot of why we go into retail stores is for that comprehensive shopping experience.
Is the gimmick quality of things like Alexa (for music, recipes, fun facts, etc.) overshadowing the practical-use selling point?
It might be. But I'm not sure that really matters because people still spend money on things that bring them joy. So while you might buy a smart sprinkler system for your home because you believe in water conservation and saving on your monthly bill, you might also be happy with a hands-free way to give an area of the garden some extra water on a dry week.
How are smart homes unique in this time of coronavirus, shelter-in-place orders, etc.?
It's interesting because while we often think of smart homes as benefiting us when we are away – making sure the doors are locked, that the thermostat is set correctly, etc. – this is also a time where having some in-home features like entertainment is so, so valuable. In many ways, this has become our connection to the outside world.
And from a granular and practical perspective, smart homes – specifically voice-activated features – are a way for us to avoid touching commonly-used (and germ carrying) things like your phone, your keyboard, your doorknobs. As we're paying more attention to the things we touch, being able to eliminate some of those "top offenders" of the germ world can't hurt.
Do you think our use of smart homes will shift when we are able to go back out into our communities?
I think everything will shift, at least some. Our reliance on data and information, and connection and community will be at the forefront of our actions so to the extent that smart homes meet that need, industries that are present in that space will likely benefit. After working from home for many people, we will likely see some wider adoption as folks head back into the office (at some point) and think back to the days when they were home seeing all the appliances and devices.
It is truly a time where now, more than ever, the customer experience matters. Smart technology or otherwise, all businesses need to be focused on that right now and as we move forward.