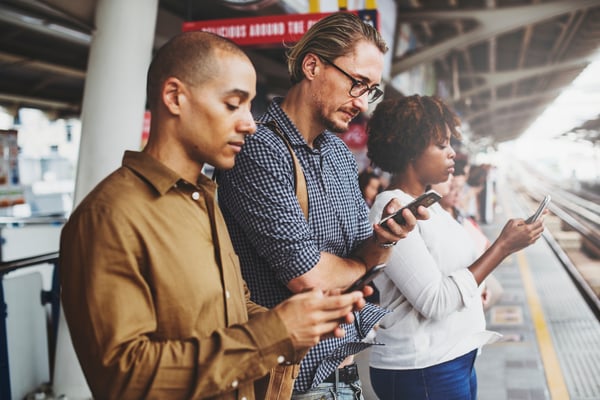 More and more, the zombie apocalypse is looking like people wandering the streets, driving, eating out, and doing just about everything with their faces buried in their screens. Communications have gone the way of messaging, leaving face-to-face, and even phone, conversations a novelty. We're all guilty of it – or at least half of us are.
According to eMarketer, the number of messaging app users in the U.S. will land at nearly 150 million in 2018. And that number is expected to grow to 171.3 million by 2022. That's roughly half of the population using messaging apps. What's the incentive?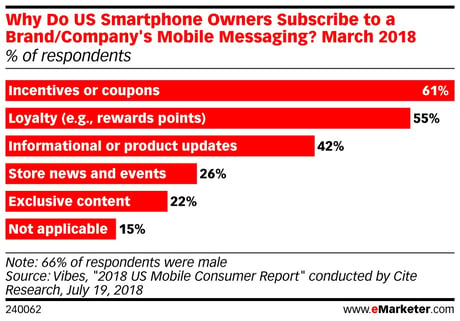 The promise of incentives or coupons leads the pack, with loyalty and rewards points in a close second. Store news and events and exclusive content sit at the bottom of the pile, indicating we're less interested in storytelling than we are in discounts and rewards. In short, we like free stuff.
So as marketers, what's our move?
Know when not to move. Too many messages or updates is the number one reason smartphone users unsubscribe. Messaging apps are very personal – that's part of the appeal, right? Having our favorite brands at our fingertips builds affinity and lets us feel like we're part of the brand experience. So think about it like a personal relationship. If we're friends, don't blow up my phone. If you're a brand, definitely don't blow up my phone.
Keep it relevant. Even if your cadence and frequency is on point, you'll lose me if your content is irrelevant. It's safe to assume you have enough data on me to keep your messaging on target – use it. For example, when I click the "spam" button on the last four advertisements you inserted into my Facebook feed, get a hint: slow down and make sure the next suggestion is for something I might actually purchase or consider.
Go where your customers are.
Facebook Messenger still reigns supreme with features like sending photos and videos, making voice and video calls, and sending payments. Advertising-wise, there are a few opportunities: Messenger Ads, Click-to-Messenger Ads, and Sponsored Messages. While that offers a myriad of options, it's important to remember that any messenger ad is going to be highly disruptive – so make it count.
Don't put all your messages in one platform. Messaging apps are fun, personal, real-time, and trendy. But keep in mind only half of people are actually using them. So what are you doing to reach the other half? And in the case that people are signed up for, say, messages and emails from you, are you creating a seamless cross-channel brand experience?
Gaining access to our customers through social platforms is a privilege. As consumers, we give up our data in the social space a lot more willingly than in other areas, mostly because social media interactions feel more personal. As marketers, it's important to recognize that we're entering people's lives and delivering brand messages into a sea of vacation photos, fishing videos, and first-day-of-school posts. If we are to stand a chance in that environment, we have to engage authentically and seamlessly – and don't ignore the basics.