Don't come to me with vanity metrics. I won't listen to you. Whether you're on my team and giving me a program update or a vendor trying to sell me something, I won't be impressed by inflated metrics or data that doesn't tell a story. And most CEO's won't settle for it, either.
According to eMarketer, one of the top data management challenges continues to be organizing data and developing metrics, but that's no reason to ignore its importance.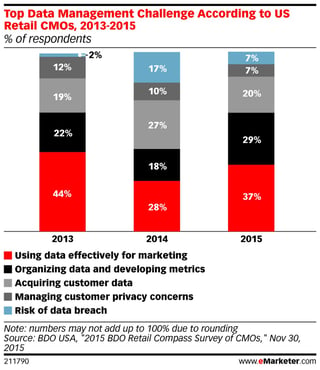 If you're not moving towards more measured investments then you're almost certainly moving in the wrong direction. Your metrics may not be perfect right away but you need to have something to inform your best guesses. It's important to consider your measurement priorities ahead of time.
And here's where it's important to bring in a third party to supplement your team's core competencies. If ROI measurability is a key goal but your data quality, data use, and data skills are your biggest barriers, don't be afraid to outsource.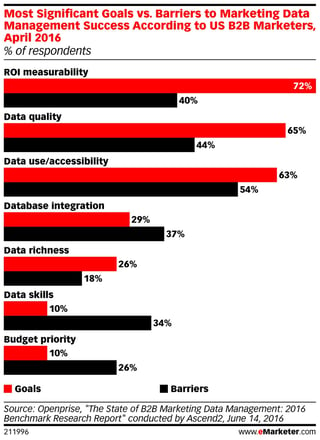 Having a shared vision of focused metrics (as well as goals and challenges) creates a win-win for everyone and every vendor/client relationship should be built on that alignment. We tell our clients we want to be driving value for them, period. So we identify the KPIs up front and measure as we go.
Can marketing provide real business results? Yes. But the only way to know that is to measure – and report – the right things. Performance marketing is where the rubber meets the road, and it's okay to ask for metrics in terms of cost per lead (CPL) in order to really understand the value of what you're looking at.
It's no longer up for debate whether measurement is important. That's assumed. You're only as good as your weakest measured media spend.
Now it's about using those metrics to understand your approach. And when your approach isn't working, how do you go about fixing it in a pragmatic way? That's where the real value of measurement kicks in – it informs your strategy, guides your decisions, and gives you concrete evidence of what's working and what needs to change.
So ask the tough questions. And if you're working with a colleague or vendor who doesn't put value first, send them back to the drawing board.