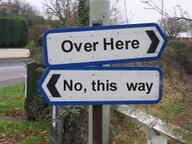 As a marketer, I am rooting for marketers of all stripes to "get it right" at every channel. When a timely and relevant offer comes in, I give quiet praise for the marketing machine that made that stroke of genius happen. And I reward the company with my dollars. It's a graceful exchange between consumer and brand when done right and a clunky, embarrassing gesture when it misses the mark.
Luckily, there are more tools and techniques for nailing the mark through data-driven omni-channel optimization. Today more than ever, consumers are getting offers at or near the bulls-eye. And while marketing automaton is surely a great thing – millions of those persona-driven targeted emails, texts, and direct mail pieces sent before the first cup of coffee – it can also be a double-edged sword if not architected correctly.
What happens when a super storm sweeps the East Coast or a government official steals the public attention in such as way as to make your brand seem insensitive? That email offer suddenly has a tone of incompetence and a "they just don't get it" aura.
Many marketers have deployed automation systems that are channel-specific and require whole sale efforts to "stop the machine," to adapt the message or even turn off messaging for certain areas. Others have deployed offer and message optimization platforms that cross channels where it takes less than an hour to change the messaging on all messages, inbound or outbound, to reflect impending disasters or simply current events ("help celebrate the Yankees record…").
While the machine is a convenience during "normal" times, the efforts required to change a campaign mid-stream will ultimately cannibalize the very tasks it was set up to enable. Among here-and-now consumers, missing the jump by even half a day can be too little, too late. It breaks down efficiency and throws valuable engagement strategies out the window. In short, everyone gets to see (the lack of human) behind the curtain.
The current environment requires a more nimble approach. Marketing needs to move from machine-like automation to complete integration and control and start managing all channels as customer dialog portals – and key assets of the enterprise.
And as someone who works with massive companies on aligning databases, analytics and omni-channel offer optimization in an automated fashion, I know the challenges of hitting every touch point with the right sentiment, the right offer at the right time but I also know it's possible.