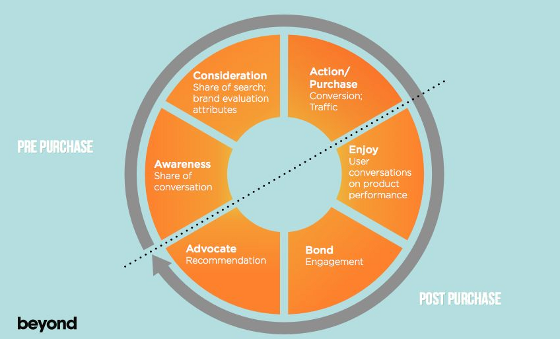 My local gym is always running some kind of crazy discount for enrollment. And I can always look at this month's (or week's) promotion and blow it off, knowing another deal is coming. It's hard to know, from a price-conscious standpoint, the best time to make a long-term commitment because they're constantly repackaging the same discount, or even out-bidding themselves for my business. In a similar instance, I bought concert tickets with a loyalty-based "early bird" discount, only to find out that a deeper discount was advertised to the general public just a month later. Really? Are we expecting consumers not to notice or react to our marketing misgivings? And are we brands really expected to keep up?
Consumers might purchase household appliances completely online but insist on "kicking the tires" in the sporting goods store (after going online for research, reviews and price comparisons, of course), then spend two hours in-store with a doting salesperson to buy a pair of jeans. We can buy, send and redeem coupons and gift certificates online (or on our phones) so even gifting patterns are changing. No matter our schedule, the circumstances or our preferences for interaction during a specific transaction, we have options.
But because consumer interaction is so varied, the margin for error (gaps) is on the rise. Consumers are hip to inconsistencies between marketing and sales, between sales and customer service, between in-store and online promotions. These gaps can feel like a bait-and-switch and in the social age, we're quick to tell everyone we know (or don't) about that experience.
Of course, staying on-message, on-channel, on-time isn't easy: with ever-increasing platforms to manage, marketers are challenged to reach ever-changing personas – that differ from brand to brand and even from product to product. So how do companies "mend the gap" or find ways to foresee, avoid and remedy breakdowns in their interactions with consumers across every touch point? Companies need to step up with an advanced level of cross-channel cohesion and optimization in order to navigate and connect with the many personas each consumer embodies. Here are three places to do that now:
While you engage your consumers in real-time, resist the temptation to manage all your data in real-time. While its great to get a system created that reads and reacts to behavior of target consumers at the register, on social media and on the web, marketers need to temper their real time automations because as we have all seen during times like Hurricane Sandy, sometimes automation fails. And when that happens, it's miserably.
Share your learning across departments. Leveraging analytics should not only be key to offer management, but should be folded in to customer service so that touch points beyond the offer can be used to upsell or cross-sell. This involves not only cross-channel optimization but also cross-departmental synergy. So whether I'm online, in-store or on the phone making a purchase, a company will know enough about me to customize my buying experience and leverage more of my spending.
Upgrade testing methodology. Marketers should be using data to drive their testing, campaign design and follow-through. There are ways to jack up A/B Testing to let statistics rank the B options – to accelerate results, time to market and more relevant messaging. Use them.
Easing pain in the consumer journey is really about closing gaps. It's about getting smart with your analysis, using the tools that are available to you, optimizing all customer-facing channels and cinching up communications and protocol across departments.