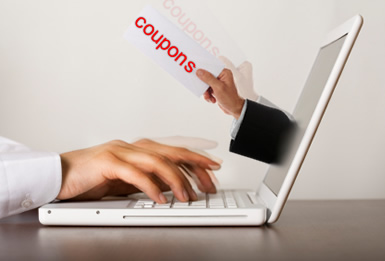 The daily deal extravaganza may have finally met a plateau but online coupons are still alive and (sometimes) well. With the proliferation of digital couponing, new branches are developing, particularly aggregators like RetailMeNot.com. So as marketers are building discount strategies, consumers are able to arm themselves with more information, broader access and targeted finds.
True, aggregates present brands with easy ways to distribute new value propositions to mass audiences – and collect a lot of data at checkout. It's really just a new form of advertising and in many ways, RetailMeNot is like the ValPac of online coupons. But unlike ValPac, who is just pushing offers based on your zip code without any learned behavior, RetailMeNot can take in learned behavior, geographic location and other data, and act as a retargeting hub.
As an experiment in this, I recently went to RetailMeNot, shopped a few pages deep into the men's clothing category, then abandoned the page. Later, I was on a social media site and the ads in the sidebar were not just for men's clothing, but for the actual brands I was looking at earlier. Good on you, coupon aggregator.
So there's an effort to drive not only the customer experience on a deeper level, but also to carry third-party messaging a little farther. But how much control does the brand actually have?
For brand marketers, this type of added exposure also leaves holes that need to be filled across channels, particularly if marketers are using coupons as a megaphone for deals that already exist. Nothing says opt-out like receiving an "exclusive" offer via email only to discover that same offer broadcast across Google Shopping or RetailMeNot. So brand marketers need to tread lightly.
What marketers need to understand in all of this coupon-craziness is the importance of clean, omnichannel messaging. Because, for as much data as consumers are offering up in exchange for these deals, these programs also expose a lot about the brands themselves – as a quick Google search or a multi-channel experience can quickly reveal the legitimacy of these "exclusive" online deals.