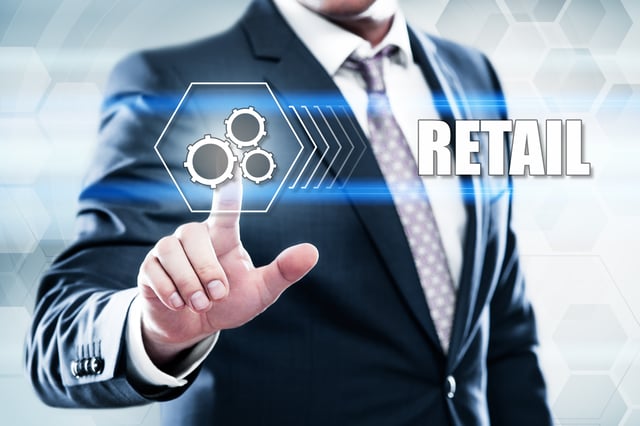 Coffee talk with our CEO Michael Caccavale is especially insightful as the year-in-review publications start dropping and marketers are planning for the next year. We recently sat down to discuss eMarketer's Retail 2017 TrendPack and what marketers are doing – and still not doing – to prepare for the challenging times ahead for retail.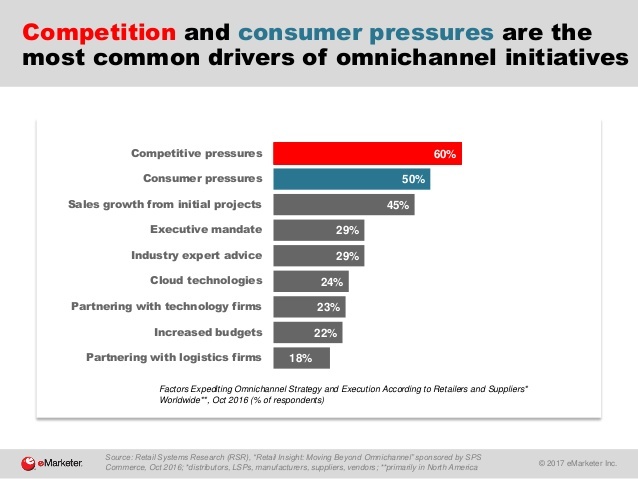 Competitive pressures outrank consumer pressures by 10% as the most common drivers of omnichannel initiatives. Does this surprise you?
It's challenging to separate the two since consumer action is also driving your competitors. eMarketer's Retail Omnichannel StatPack also cites lack of customer analytics across channels and siloed organizations as prominent challenges to omnichannel marketing, and I think that really nails it. That's a key factor behind poor customer service and lack of understanding customers across channels. And this comes back to the customer experience which, if you're not doing it right, will only help fuel your competitors.
I love the quote from Crate & Barrel: "If I can start to take browsing history, social media history and tie that to your transaction history, I can start to do very specific segmentation... If you can master the data, you can really target customers with what they want and optimize your marketing." —Michael Relich, COO, Crate and Barrel
I think he's right-on – for many retailers, just starting to mix the channel information is a critical first step. This is how we started with our Media Mix platform. It's all about understanding the customer's channel behavior so you can be more effective in reaching out to that customer.
According to eMarketer's Retail 2017 TrendPack, "around three-quarters of US internet users regularly or always search for visual content prior to making a purchase; only 3% never do." What's the deal?
This is where marketers really need to think like consumers. I want to see a picture of the product so when I go into the store, I know what it looks like. That's why I'm online in the first place, I want to learn more, read reviews, compare products, features, and so on. But ultimately, I also need the visual. It gives me an informational head-start for when I go into the store to make the purchase or continue my investigation depending on the price point and type of product.
Are there exceptions?
Sure, maybe for things you've purchased before, or things that you're just resupplying. Maybe you buy your office supplies online, or paper towels, or diapers for the kids. You don't necessarily require a visual to make that purchase, you've been through the process of decision making.
But the overarching theme here is visualization. Brands have to accept the fact that consumer behavior is changing and they need to be thinking about that as they develop their strategy. The shift in consumer behavior is no longer up for debate; it's happening. So marketers should be focused on identifying and capitalizing all the opportunities.
So what do marketers need to take into consideration?
You're going to see that shoppers are a lot less patient in-store because they've already had a good online experience. They still want to go to the retail store depending on the purchase, but they want to be in and out quickly and not have to stop and ask for help with something. You want your in-store experience to be as painless as any other experience you have with them. And it can be as simple as store navigation. I don't want to wander around, read labels, etc. – I want to go in, find what I've been looking at online, and make the purchase.
Who's doing this well?
Target has a great BOPUS system. I recently went in, went right to the front with my printed order, and they were ready for me. And while I waited, every other employee who saw me there stopped and asked if I was being helped. Better yet, from just my driver's license (proof it's me), they were able to find the other order that was waiting for me so in reality, I didn't need anything to pick up my order. I got my order quickly and was out the door in 5 minutes, it was great.
What else do marketers need to be thinking about?
Seamless pricing and merchandising across in-store and web. Consistent product offerings, consistent pricing, etc. Cut down my search time, let me get in and out of the store without having to track your pricing across your platforms. And the last piece of friction is the transaction – the customer needs some options there. Maybe I self-check or trigger the transaction from anywhere in the store (DSW is a great example of this). But things like shoving your BOPUS pickup area to the back of the store, ala Walmart, doesn't work – you are just frustrating the shopper.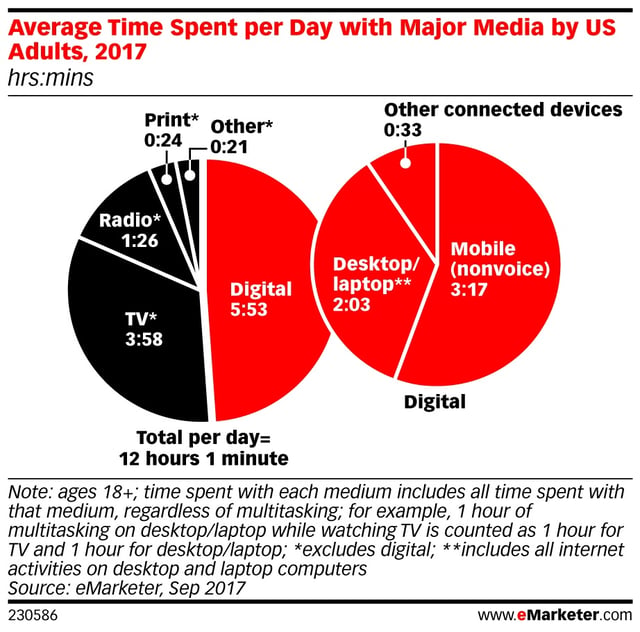 Check out this chart citing average time spent per day with major media by U.S. adults. What does this tell marketers they need to focus on?
Take note that the chart includes time spent with the media, regardless of multitasking. So given that much of this data probably does involve multiple devices viewing, you can't have this media living in different spaces. It takes us back to the need for a seamless experience.
According to eMarketer, omnichannel shoppers spend more than single-channel shoppers -- specifically, 4% more on in-store shopping and 10% more on online shopping. So you're leaving money on the table by remaining single channel and you're losing money if your omnichannel experience has holes in it.
What's the bottom line?
Marketers really need to bring their data together so they know what people are buying and how they're likely to buy. They need to create offers and visualization that are on target, on time, and consistent across channels. And that comes back to data, every time. As a customer, I don't mind the recommendations if it's targeted well. But brands will lose my attention – and affinity – if they consistently get that wrong.