As marketers, sometimes there's a gap between the data we see, the data we use for reporting, and the data that actually drives change. Perhaps this comes down to looking at the wrong information – but more often, it's that we just don't know what we don't know. Our CEO has excellent insight in this area so we grabbed some coffee and talked about what it takes to translate data to insights, then insights to action.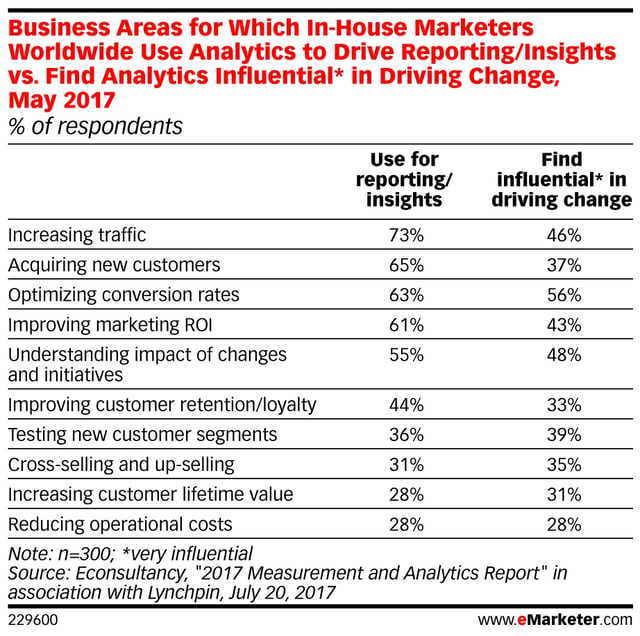 According to this chart from eMarketer, 73% of in-house marketers use analytics for reporting increasing traffic. What are your thoughts?
It seems like the respondents are looking at analytics to measure traffic and conversion separately. For example, are they getting traffic data by customer type? Because traffic reporting shows how your brand is getting people to come to the door, yet conversion is a different process. Opening email is traffic, not conversion.
The respondents are likely thinking of them as separate business goals/processes. Just like marketing vs. sales: your job (marketing) is to get people to our site (increase traffic), yet your job (sales) is to get people converted (generate revenue). So maybe that's why "marketers" aren't using those conversion insights as frequently.
I'm not surprised that the conversion questions are both used and influential. Conversion isn't vanity metrics, so you can make the insights derived from conversions more actionable and "talk the language" of senior management (namely revenue).
So how do you make sure you have the right talent to achieve those goals?
When someone inherits a marketing department, they might say "we need a person to manage this. How do I add the right talent to augment my existing team?" Maybe you have someone who is an expert in one area, but not another area. A marketer is tasked with finding the right talent, and finding the right almost-talent and bridging the gap between the two.
And in the case of outsourcing talent, responsible firms will challenge the information that their agencies provide to them. You want to push back on what they're delivering. Ask questions like, "what are we measuring, why, what's changing over time?"
Why do you think there's a gap between marketers using analytics for reporting and finding analytics influential in driving change?
Many times, they're looking at what's closest to the sale, assuming that's what will speak to management's goals in marketing and sales measurement. The data is in the order of influential change, which really sits in two tiers.
Tier 1:
Acquiring customers
Conversion and ROI
Tier 2: you're looking at data that sits a little farther away from the point of conversion, or sale.
Customer retention
Testing segments, increasing traffic, etc.
Tier one data really gets at the revenue piece, which is what management wants to know when they're asking for the bottom line. But marketers still need to pay attention to those tier two metrics as well – both to inform changes and, ultimately, to influence tier one progress.
What's missing from this data?
The context of those terms at the heart of the survey are pretty nebulous. For example, "conversion rate" for an online person is going to be different than that for the traditional sales/marketer. Different folks in different channels are looking at these terms differently which shifts the resulting responses.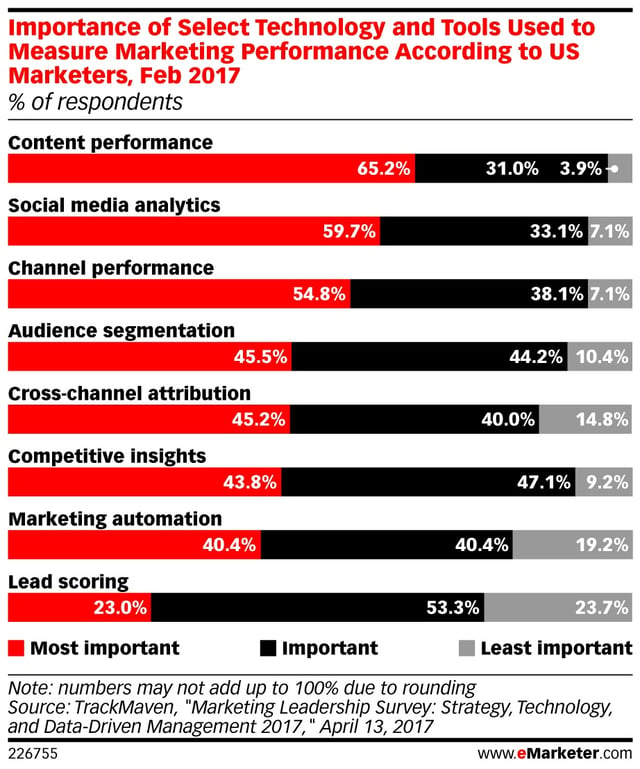 So with that in mind, check out this marketing performance article, ranking content performance as "most important" to marketers. With things like content and channel performance out-ranking automation and lead scoring, what are we looking at here?
I think they're ranking content and channel performance as more important because they feel like they have automation licked. It's already running, so what they have to focus on is content.
There are pitfalls in operating under the assumption that content performance should be weighed more heavily than automation. For example, you have to make sure your automation is actually running well and that your data is solid.
Everything listed here is important. But how much folks feel like they have these areas covered is clearly illustrated in the charts. Some of these are continual battles that will never go away, some have a tendency to be blind spots.
What's the key takeaway?
These are very different topics and technologies but they're not mutually exclusive. Take channel performance for example. Is that totally devoid of audience segmentation? No. All of this is great, but it should be informed by segmentation, for example.
Clearly marketers are focused on the continual evolution of content performance, yet feel like they have things like automation and lead scoring going already. To me, this isn't so much about where they need to measure (lead scoring), but where they need to do more work (content).