Few of us have managed to escape the Pokémon GO craze unscathed. Whether trying to walk around players on the sidewalk or trying to pry the phone out of a loved one's hand to have a meal, the game has taken root in the corners – or center – of our lives. As marketers, we can't help but salivate at the idea of jumping on board of the latest trend. But is it really the best move for all of us? And if you do participate, how do you make it work best for you?
Kinds of Businesses
Mike Templeman wrote a nice piece over at Entrepreneur about a variety of different ways businesses can cash in on the Pokémon action. Like the game, though, the best ideas (giving away branded portable power chargers!) require businesses to be in the physical path of the players. These techniques would work great for restaurants, downtown shops, bars, coffee shop: any businesses that can be improved by increased foot traffic.
There is still opportunity for businesses off Main Street to benefit from the game. Engaging your social media base in conversation about the game, offering themed discounts, or talking about the game on your blog (*cough* Who, me?) are all ways of participating without participating directly in the game.
Types of Customers
If you are unfamiliar with the game, or mobile gaming in general, you might assume at first blush that most Pokémon GO players are teenage boys. No? Live-in-their-parent's-basement-men. No? How about 25-year-old white, college educated women making $90,000 a year? According to SurveyMonkey, that's 63% of the players.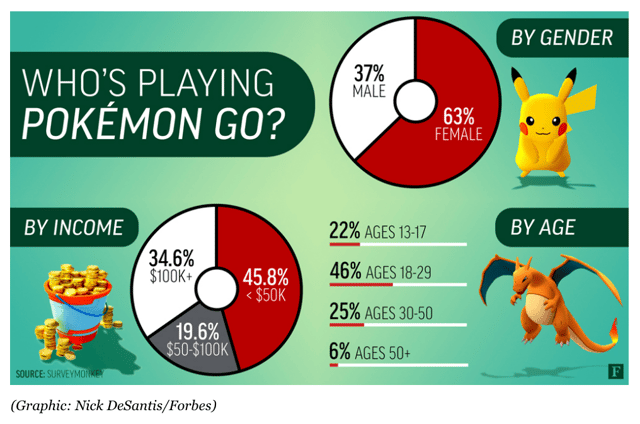 With 90% of players playing in urban areas, venues that may think they're too cool to participate in something like this – I'm looking at you, artisanal cheese shop – think again. Your ideal customers might be throwing Poké balls right outside your door.
Making It Work
Getting people in the door with a fun promotion is a great start but convincing them to spend money is better. And convincing them to give you their email address is best. Even if you can't convince that player to buy a coffee, log of artisanal goat cheese, or sit down for dinner, getting contact information for that future customer is more valuable than the profit from that one transaction. Engaged, active potential customers are a precious commodity. Drawing them in with a themed promotion is a great opportunity. It is important to remember who they are and how they met your company; that will determine how you market to them moving forward. Engage with them appropriately – in terms of channel, tone and frequency – and you will be rewarded with a loyal customer.