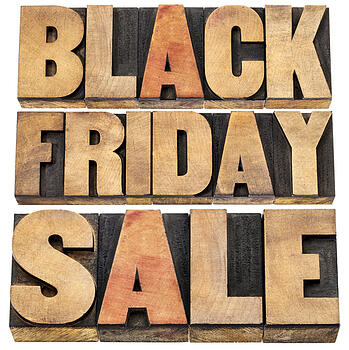 Christmas marketing started when Halloween ended. Black Friday buzz is creeping its way into everyday life in early November – even if some of the chatter is complaining that sleigh bells shouldn't come before turkey legs. So other than early, what's different this year?
Lets start with Accenture's annual Holiday Shopping Survey, which predicts the biggest Black Friday in five years and times they are a-changing. It's not just about camping on sidewalks and shoving your neighbors out of the way for a new game console. The survey suggests that 42% percent of consumers plan to spend at least half of their budgets online, though 36% said they would be looking to take advantage of store-focused services such as in-store pickup following online purchases.
And since savvy marketers are (almost) all ready to go, the better question is: what are the tweaks that can make this season a better one? Here are three for starters.
Hashtagging all the way. In addition to their new mobile app, retail mogul Target is about to hit the airwaves again with its new "digitally-driven holiday campaign." Threading #MyKindOfHoliday through their TV, social and digital holiday messaging, Target is poised to help parents really understand their kids' wish lists. Likewise, Toys R Us is driving a social campaign centered on #WishinAccomplished. While hashtags weren't invented this year, driving commerce around a seasonal event is a clever way to enlist shoppers in the marketing process, while also giving the retailers a way to incentivize relevant conversations.
Don't Discount Discount Distribution. The Accenture study also indicated that 94% of respondents said discounts would play a key role in purchase decisions. Shocker!. So the marketing push isn't just about offering the deal – it's where you are offering the discounts. Coal will follow those who allow a promotion to run via web that doesn't appear in your mobile version, in store or across any other channel, for that matter. Customers feel slighted when they discover a better offer elsewhere, after they've made their purchase. Furthermore, think about how new discount aggregation offer sites are eating into the mindshare of consumers this year; from coupon databases to the RetailMeNot's of the world, make sure your offers are showing up in their libraries and with the right key search words (your product/category + coupon).
Think beyond the holidays. 'Tis the season to capture new customers. Sure, holiday spending is going to be huge but that's no reason to take your eye off the ball when it comes to longer-term engagement opportunities. With a boost in retail activity, brands definitely stand to win new customers. Is your capture AND engagement strategy seeing past December? Are you getting the best customers to start buying during the holidays? Your marketing messages need to include the returns season, the tax refund cycle, and all the little behavioral triggers set off in the consumer journey (read: the ability to respond to a consumer's needs based on what the consumer is telling you). The data pouring off your clever sales strategy should be the trail of crumbs for next year's refinements.