Senior Solution Architect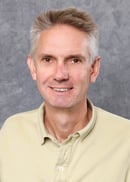 Tim is an open systems professional with over 25 year of experience in the software and database industry with roles ranging from database developer to system and solution architect. He has the unique ability to collaborate with clients, as well as transform their requirements into operational systems.
Since 1992, Tim has architected and led on-schedule implementations of multiple Marketing Data Marts for clients in the cable, mutual fund, telecommunications and retail cataloging industry. All implementations included incorporation of business requirements, data discovery and analysis, data modeling, data transformation, data loading and database performance tuning, and application deployment.