Senior Consultant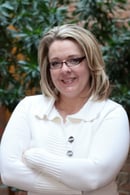 With nearly a decade of accomplishments in the Media and Communications industry, Amber Mason collaborates with Pluris' clients in the application of advanced analytics and optimization techniques to improve consumer segmentation and contact strategies and align the various aspects of the offer mix for each consumer.
A seasoned consultant, Amber's work has enabled many leading marketing and advertising executives to refine their strategies and ultimately improve the productivity of their advertising budgets for traditional and line media. Her skills in lifetime value analysis, media and response measurement and attribution, and predictive modeling have provided clients with the insights that enable marketers to better allocate their marketing spending across differentiated consumer segments and various types of media
Amber is proficient with many statistical software packages including SAS, Clementine and Enterprise Miner, and is familiar with many statistical methods that can be utilized to enrich analytical approaches.
Prior to joining the team at Pluris, Amber served as a Senior Analyst with AT&T Broadband, a Statistician with Kaiser Permanente, and a Senior Analyst with QualMed.
Amber holds an MS in Biometrics from the University of Colorado Health Sciences Center and a BS in Mathematics & Physics from the University of Southern Colorado